Best Mini ITX Cases

Want the best Mini ITX case for your needs? Find out which are the best small form factor cases for basic, gaming and home theater computers.

1. Best Mini ITX Case Under $60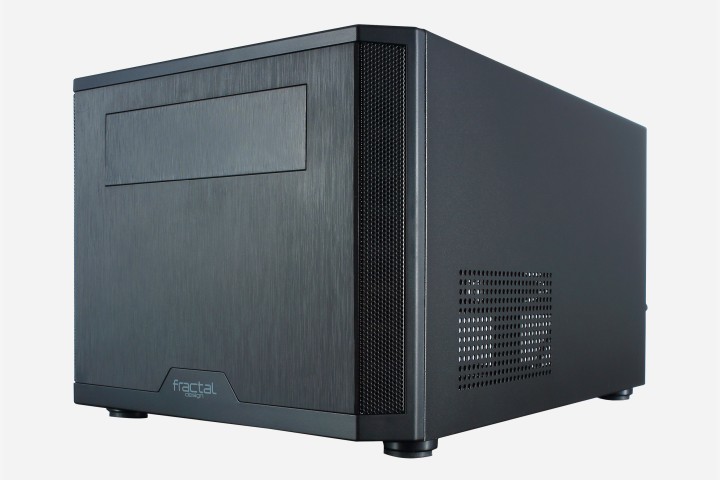 When shopping for a cheap Mini ITX case, it's essential to choose one that accepts standard size components. This matters because standard size components = wider choice of cheaper parts = bigger savings.
Fractal Design Core 500 Black scores big points here. Standard ATX power supplies, regular height expansion cards, regular height RAMs, 3.5" hard disk drives... this case takes them all. Thanks to its dual expansion slots and extra length clearance, it is even able to stomach an oversized high end graphics card.
Despite its compact size and modest price, this shoebox case is able to contain a good number of drives: one 5.25" optical drive + three 3.5" hard disk drives + three 2.5" solid state drives all at once. If you're not installing an optical drive, the 5.25" bay can be converted to hold even more hard drives.
You will find two USB 3.0 ports and audio jacks at the top of the case - This top location makes them easier to access when the case is stashed in a cabinet or seated on a shelf.
The included 140 mm exhaust fan + side and top air vents deliver cooling that is better than most budget Mini ITX cases (as tested by bit-tech). There is even room for two more 140 mm fans in case you want to overclock your CPU and GPU.
Selling for around $60 on Amazon, this case offers tremendous value for money. While its low price is aimed at budget users... its features, capacity and cooling performance are good enough to meet the demands of most mainstream consumers and light gamers.
2. Best Mini ITX Case for Gaming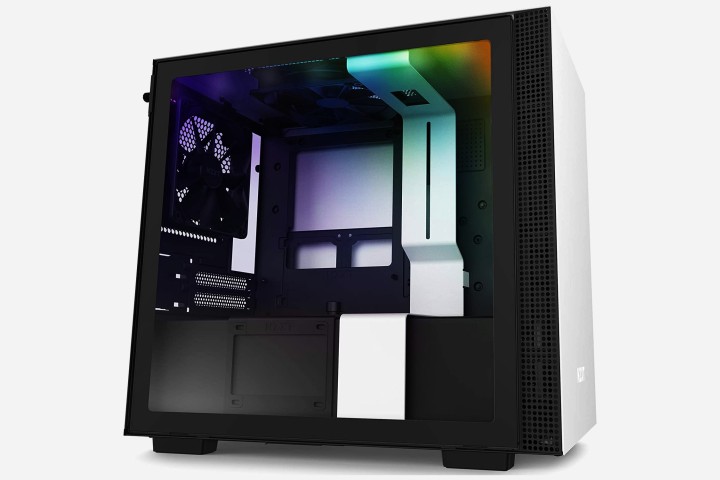 A Mini ITX gaming case has a lot on its plate. Besides supporting a high end (oversized) graphics card, it has to overcome the challenge of cooling a mid to high end CPU plus GPU in a tight space. The best Mini ITX cases for gaming will even allow you to tap into the unthinkable: serious overclocking.
NZXT H210i contains the three key ingredients for housing and powering a high end discrete graphics card: dual expansion slots, long graphics card clearance and support for a full size ATX power supply. With 325 mm of GPU clearance, there is enough room for almost any graphics card (except for the very rare triple slot monsters).
What makes this case a real star is its remarkable cooling performance. Temperature testing by Anandtech and bit-tech have confirmed one thing: This ~$110 case delivers superior cooling that's able to rival and even surpass ~$150 models from top tier brands like Lian Li and Silverstone.
This case comes standard with two fans (front and rear 120 mm), plus you can install three extra fans for improved air flow. And the impressive cooling options don't stop there - There's even room for a 165 mm CPU cooler and 240 mm radiator. With a bit of tinkering, this SFF case will be able to house a tower heat sink and dual radiator liquid cooler for big time overclocking.

The case's healthy capacity for hard drives also deserves a mention. Besides a 3.5" hard disk drive, you can install up to three 2.5" hard disk drives... making it an excellent choice if you intend to set up a NAS or RAID.
While it is a bit larger than most Mini-ITX cases, its impressive ability to house and cool high end hardware is unmatched... especially for a small form factor case around $100. We highly recommend it for gamers and overclockers looking for a compact case that does it all.
3. Best Mini ITX Case for HTPC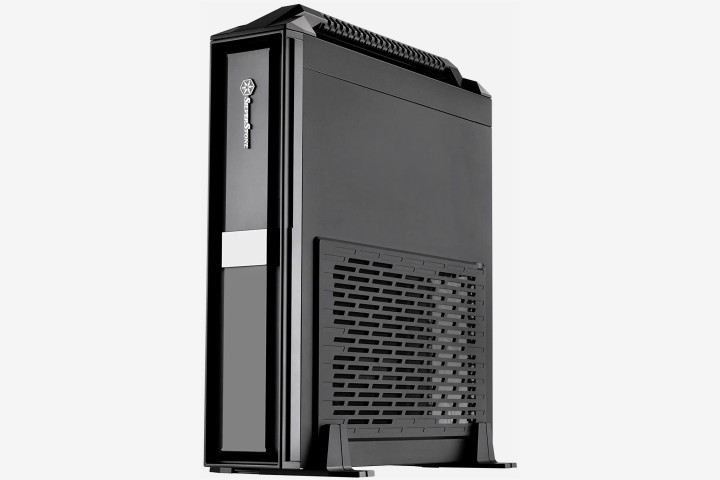 The best Mini ITX case for a HTPC needs to accomplish a few things. One, it should be small enough to fit almost anywhere: on a shelf, inside a TV closet or within a home theater rack. Two, it needs to be quiet so it won't interfere with your viewing experience. Three, it should be able to accommodate a Blu Ray or DVD drive.
Measuring just 380 mm x 370 mm x 87 mm (15" x 14.5" x 3.5"), SilverStone ML08B-H is small even by Mini ITX standards... but this miniature case meets and even exceeds the three conditions above. It's also bundled with a removable handle and case stand so you can either lie it down flat or make it stand upright.
This case is able to contain everything a HTPC would need, including two hard drives and an optical drive. The catch here is that you'll have to go for the smaller 2.5" hard drives (SSD or laptop HDD) and a slim optical drive, but those aren't expensive or hard to find.
While most slim cases can only hold a low profile graphics card, you can install a full-sized graphics card into this case thanks to its clever design and the included PCIe riser card. There is also an oversized vent near the expansion slot to lower the GPU temperatures.
You will also find two easily accessible USB 3.0 ports and audio jacks at the front of the case.
Despite being just 12 liters in volume, this small silent case is able to accommodate all the hardware and expansion options that a HTPC owner will ever need. This rare combination makes it one of the best Mini ITX case for a HTPC.