Best Computer Power Supply

What is the best computer power supply for the money? No matter what type of computer you have, learn what's the best PC power supply to buy today.

All power supplies recommended by us have to meet the following minimum requirements:

1. It hails from a reputable brand - Antec, Coolermaster, Corsair, Enermax, EVGA, FSP, OCZ, Seasonic, Silverstone and XFX are well recognized as the best computer power supply brands. Rosewill and Thermaltake produce solid power supplies as well, but it's best to avoid their low end models.

2. It has been certified 80 Plus (at least 80% power efficient). For power users such as gamers and overclockers, the power supply must be at least 80 Plus Gold (87+% power efficient).

3. It should come with at least two years of warranty. For higher end models, you can expect five years of warranty (or more) from the best computer power supply manufacturers. On the other hand, three month warranties are often dead giveaways for "kaboom" units.

4. It has passed rigorous testing by credible review sites. Besides faring well in expert reviews, positive feedback and recommendations from actual users are important too.

1. Best Power Supply under $50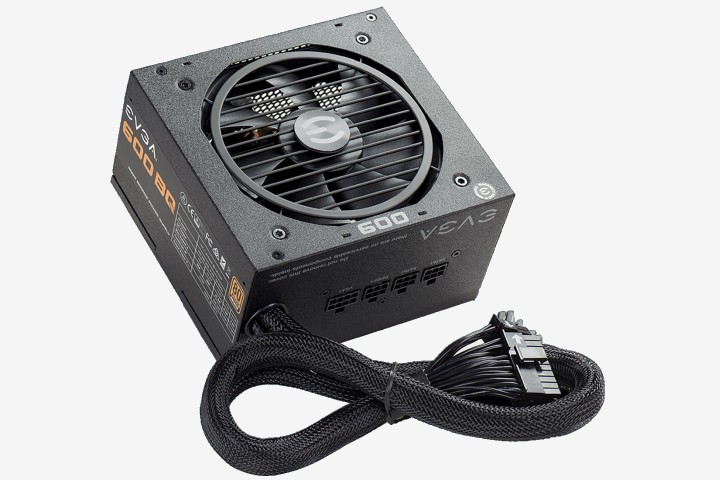 Computer technology has progressed to a stage where even the lowest end PCs will suffice for basic users, so what we want here is a low cost power supply that doesn't cheap out on energy efficiency and reliability.
Frequently recommended by satisfied users (4.5 stars rating by 1000+ Amazon customers), EVGA 500 BR is easily one of the best computer power supply that you can get for under $50.
In this price range, it's hard enough finding a 80 Plus power supply by a top brand. EVGA trumps the competition by offering consumers this 80 Plus Bronze model (82+% power efficient), which cuts down on your electricity costs and saves you even more money in the long run.
Although this is an entry level model, EVGA doesn't cut corners on its features - Robust current and temperature protections make it a reliable power supply with stable voltages. Sleeve cables and a silent fan are also nice to have at this price range.
While most budget power supplies do make with warranties from six months to two years, EVGA is giving a three year warranty for this unit. This generous warranty period plus EVGA's excellent customer service works together to give buyers a peace of mind.

Of course at this low price point, even the best computer power supply will have its limitations.
Its lowish 30°C temp ratings and 12V rail that deliver a so-so 336 Watts means it is less than ideal if you're installing a high end CPU and graphics card or operating your computer for long hours. It is also not modular so you can't detach any power connectors for easier cable management.
If those are your needs, then EVGA 600 BQ 80+ Bronze 600W will serve you better - See our pick for the best computer power supply under $100 below.
2. Best Power Supply under $100

Office applications, playing media files, casual gaming etc. - A mid range computer is expected to handle a wide range of tasks, so this all-purpose machine needs a versatile power supply that can power a large assortment of hardware... and be durable enough to last for years.
The first thing you'll notice about Cooler Master MWE Gold is its excellent power efficiency. While most mainstream power supplies are only able to achieve 80 Plus Bronze at best, Cooler Master has outdone the competition by giving us a 80 Plus Gold unit (rated at 88 to 91% efficiency in real world tests). This adds up to big electricity savings over the years.
Bundled with this modular power supply are ribbon cables that can be detached when unused. Commonly found in higher end power supplies, these flat power cables are favored because they take up less space in a computer case.
There are eight SATA connectors (for hard drives and optical drives), three Molex connectors (multi purpose) and two 6+2 pin PCI-E connectors (able to power two mid-end or one high-end graphics card).
We do have some nitpicks with its power cables: It would be nice to have SATA and Molex cables of different lengths (for cable management) and two additional 6+2 pin PCI-E connectors. But to be fair, most mainstream users aren't going for perfect cable management or graphics card overkill.
Cooler Master MWE Gold's solid build quality also deserves a special mention. Teardowns by respected tech authorities have revealed high grade Japanese capacitors, a well-built transient filter, clean soldering and a loop dynamic bearing fan.
Its quality components and manufacturing translates into two things: excellent power performance (rock-solid voltages, minimal noise and ripple levels) and longevity (backed by a generous five year warranty).
3. Best Gaming Power Supply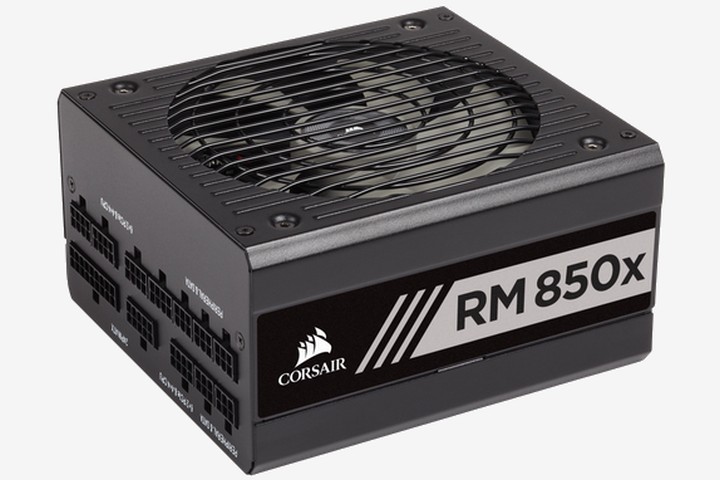 Running the latest games in their full glory requires a lot of juice, so the best computer power supply for gaming must deliver enough power and remain rock solid under load... without breaking the bank.
What makes Corsair RM850x so popular with gamers and even some enthusiasts is how it is able to balance value and performance.
Any self-respecting gaming power supply should be able to deliver at least 600 watts and we recommend 750+ Watts for high end graphics cards and future proofing. A single +12V rail combined with 850 Watts output means the Corsair RM850x is able to handle up to two high end graphics cards with ease... so you can install a graphics card now and have the headroom to add more in the future.
Gaming for long hours does rack up your electricity bills, so we recommend going for a 80 Plus Gold (or higher) power supply for cost savings in the long run. Rigorous testing by authority sites Anandtech and Tomshardware have rated its power efficiency at an impressive 86 to 91% even under high case temperatures. More than just saving dollars off your power bills, it is also a testament to Corsair RM850x's superior design and engineering.
As you can expect from a higher end model, this is a 100% modular unit with flat power cables that you can detach from it. One, this reduces cable clutter and makes cable management a breeze. Two, it maximizes air flow and lowers the temperature within the computer case, improving overall hardware health and overclocking performance.

Its selection of power cables can be summed up with one word: generous. With six 6+2 pin PCI-E connectors, eight Molex connectors and ten SATA connectors, this unit is able to power three high end graphics cards, 10 drives plus all the cooling and accessories you will ever need.
While noise levels aren't the biggest concerns of most gamers, you'll still be happy to know that this is a quiet unit. In fact, the fan doesn't even spin up at lower loads.
And let's not forget its impressive ten warranty, so we it's not just one of the best computer power supply for its price range... but also the only one you'll need for a long, long time.
4. Best HTPC Power Supply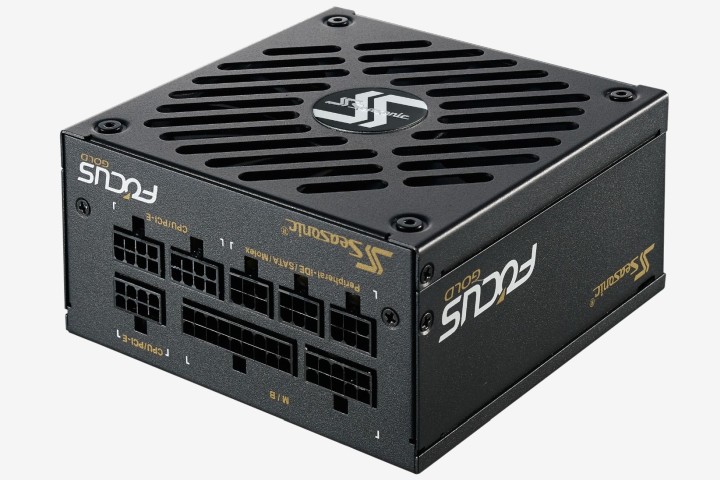 The best computer power supply for a HTPC needs to have two key qualities: One, it has to be space saving so that it can fit inside a small form factor case. Two, it must be silent to avoid noise distractions while you're listening to music or watching videos.

Widely considered as one of the best computer power supply for the money, let's find out what makes Seasonic Focus SGX a favorite with HTPC owners.
Being a fully-modular unit, you can detach any unused cables to free up space inside a cramped HTPC case. Proper sleeving on its power connectors also helps to minimize cable clutter and improve air flow within the case.

Seasonic has a reputation for producing the quietest power supplies even among top tier PC power supply manufacturers. This model in particular has won universal praise among expert reviewers for being whisper quiet. Even under a full load, It purrs along at less than 30 decibels and you can expect the noise level to pummel to about 20 decibels for a typical HTPC.

Despite being compact and silent, it is able to deliver up to 500 Watts, giving you ample power to add a discrete graphics card for gaming or viewing ultra high quality videos (e.g. 8K videos).
And let's not forget this power supply is certified 80 Plus Gold (88%+ power efficient) as well, so it will draw less power and save you money in the long run.

Bundled with a ten year warranty and selling for around $100, there is very little to complain about Seasonic Focus SGX. Some lesser brands are able to offer higher efficiencies or more connectors for the same price, but they don't come close to its build quality and reliable silent performance. We highly recommend it as the best computer power supply for a HTPC.