Best Motherboard CPU Combo

Find out what is the best motherboard CPU combo for a basic, mainstream, gaming and home theater PC right here.

With so many processors and boards to choose from, how does one single out the best CPU motherboard combos? This is how we do it:

1. Best match between motherboard and CPU. Having a socket that fits is just the beginning... a CPU and motherboard have to complement each other well. For example, pairing a "B" or "H" series motherboard with an unlocked Intel CPU is a common mistake. While they will work together, the motherboard is going to cripple the CPU's overclocking capabilities.

2. Must-have features for different computer types. Having built hundreds of computers, we know what matters for different users: HDMI 2.0 ports for 4K displays, M.2 slots and SATA III ports for both 2.5" and NVME drives, 16 PCIe lanes for high end graphics cards... the list goes on.
3. Rock solid motherboards made by top tier manufacturers - Asus, Gigabyte, ASRock and MSI (Biostar and ECS are considered tier 2 in general). Besides branding and warranty, we will scour user forums to weed out models with defective batches and known issues. For higher end boards, we will also examine other quality indicators such as capacitors, soldering, power phases etc.
1. Best Motherboard CPU Combo under $125

Aimed at budget users, AMD Athlon CPUs are priced to compete with low end Intel processors in the entry level market. Despite their low prices, they are able to offer adequate performance for less demanding users... making them excellent choices for a cheap motherboard CPU combo.

Thanks to AMD Athlon 3000G's aggressive pricing, we were able to snag this entire motherboard CPU combo for ~$120 on Amazon.

Don't let its low price fool you. User benchmarks have proven that this CPU is faster than its closest Intel Celeron competitor by 5% to 15% for most tasks. In short, it is more than capable of tackling everyday tasks such as web surfing, email, office applications and multimedia programs.
While it's rated at 35W, this CPU pulls just 10 to 25W in actual use. Besides shaving dollars off your electricity bills, its low power requirements allows you to get away with a cheaper (but good quality) power supply - See our Best Computer Power Supply page for more details.
No matter how we see it, integrated graphics is a must for budget CPUs. One, modern integrated graphics are able to meet the needs of most basic users. Two, you won't have to fork out extra money for a separate graphics card.
This CPU's integrated graphics perform far better than what we expected for its price. Its three Vega GPU cores you to edit images, play 4K videos and even run older games on low settings.
Retailing for just $60+, the Gigabyte B450M DS3H motherboard offers everything most budget users can ask for:
Four DIMM slots supporting up to 64 GB of DDR4 RAM... A M.2 slot for ultra fast NVME solid state drives... plus four SATA III ports for installing up to four SSDs, HDDs or optical drives.
This motherboard comes with both DVI and HDMI ports for hooking up to monitors and TVs. The big plus here is that its HDMI port is version 2.0 (instead of 1.4) so it is able to fully support 4K monitors and TVs at 60Hz.
There is also ample room for upgrades. There are three expansion slots - One high speed PCIe x16 slot (16 lanes) for installing a discrete graphics card plus two additional PCIe slots for installing sound cards, network cards or connector cards. There are also eight USB ports at the back (four USB 3.0 + four USB 2.0) plus six more that you can connect to the front of the computer case.
Its mid end Realtek ALC887 sound chip is a pleasant surprise and something you rarely find on budget motherboards. In short, this motherboard is going to produce better audio and crispier sounds than most of its competition.
Low power consumption, decent performance and good hardware support makes this the best motherboard CPU combo for the money - It will meet and even exceed the needs of most light users.
However we do have to be realistic at this price range. This cheap motherboard and CPU combo isn't going to cut it for CPU or GPU intensive chores, such as mainstream gaming, graphics editing, media encoding and moderate multitasking.
2. Best Motherboard CPU Combo under $250

A mid range CPU and motherboard combo has to be powerful enough for most users... while remaining affordable for the masses. Call us greedy, but we will also want some degree of future-proofing, so this motherboard CPU combo has to offer good upgrade and expansion options as well.

Now let's see how much value we can squeeze from this ~$220 motherboard CPU combo:

AMD Ryzen 5 3400G has with four CPU cores with eight threads, allowing it to operate as a eight core processor.
As you can imagine, eight cores running at ~4 GHz is plenty for most people - Whether you are browsing the web, running office programs, working with media files, compressing files or backing up data, this CPU handles them all with ease (as tested by tomshardware and bit-tech). It even packs enough processing power to take on moderate multitasking and virtualization.
The bundled CPU cooler is one important detail that many buyers overlook. The AMD Wraith Spire cooler that comes with this CPU far outperforms Intel's generic cooler, allowing you to overclock both the CPU and integrated graphics by 5 to 10% in most cases. Even if you don't intend to overclock, having a superior cooler will lower the CPU's temperature and increase its lifespan.
With its 11 Vega GPU cores, this CPU's integrated graphics is just...impressive. In fact, it is able to deliver 5 to 15% higher frame rates than the Nvidia GT 1030 (a $100 dedicated graphics card) for most games. Such powerful integrated graphics would be unthinkable just a few years ago.
Besides viewing ultra sharp images and playing 8K videos, its robest integrated graphics also allows you to fiddle with graphics editing and video encoding. In fact, you can even push it to play most newer game titles on low settings.
Gigabyte B450 Auros M's rich set of features and expansion options outclasses most other motherboards in its price range:
Four DDR4 RAM slots (for up to 64 GB RAM)... two USB 3.1 ports (for external SSDs and HDDs), six USB 3.0 ports, six USB 2.0 ports... six SATA III connectors (for internal solid state, hard disk and optical drives)... plus the latest M.2 slot (for ultra fast NVME SSDs).
Its Realtek ALC892 is one of best onboard sound chips you will find on a mainstream motherboard, supporting both 7.1 HD audio and S/PDIF digital audio. While audiophiles and enthusiasts will always insist on having their own dedicated sound cards, the rest of us will be more than satisfied with this motherboard's clear audio output.
If you're relying on integrated graphics, this motherboard is able to support a 4K monitor or TV with its HDMI 2.0 port. There is also another DVI port if you're going for a dual monitor setup. If you intend to install a discrete graphics card, then you'll be pleased to know that this board has not one... but two PCI-E x16 slots that supports AMD CrossFireX for a dual graphics card setup.
This motherboard's solid build quality also deserves praise. Japanese solid caps, ferrite core chokes, high grade MOSFET, glass fabric PCB and dedicated USB fuses enable it to better withstand high temperatures, power surges, electrostatic discharges and humid environments. What we have here is a durable motherboard that should outlast its three year warranty.
Whether it's for home or office use, this robust and versatile motherboard CPU combo will be more than adequate for most people. Unless you're someone with exacting needs (heavy gamer, graphics designer, video professional, overclocker), this value-for-money combo is going to serve you well for the years to come.
3. Best Motherboard CPU Combo for Gaming

A gaming CPU needs to be powerful so that it can run games that are CPU-intensive AND won't bottleneck higher end graphic cards.

Let's find out what makes AMD Ryzen 5 3600 so popular with gamers and techies:

With 6 cores and 12 processing threads running at up to 4.2 GHz, this CPU aced everything that reviewers tossed at it... synthetic benchmarks, office software, graphics editing, video rendering, 3D modeling, data processing and of course heavy gaming (with a discrete graphics card).
Numerous tech sites (LinusTechTips, AnandTech, TechPowerUp, XbitLabs) have ran extensive tests on it and came to the same conclusion: This CPU delivers outstanding performance for its ~$200 price tag.
When paired with a compatible motherboard (see below), this CPU will be able to support the latest PCIe 4.0 interface. This matters because PCIe 4.0 offers twice the transfer rate of the standard PCIe 3.0 and will allow you to maximize the performance of the latest graphics cards and SSDs.
There's more good news: This CPU is fully unlocked so you can overclock it easily with AMD Ryzen Master software. The bundled Wraith Stealth cooler works well enough for normal usage, but we will recommend a good aftermarket cooler for overclocking.
For the best gaming motherboard CPU combo, we'll need to pair this killer CPU to a rock-solid motherboard with first rate features and competitive prices: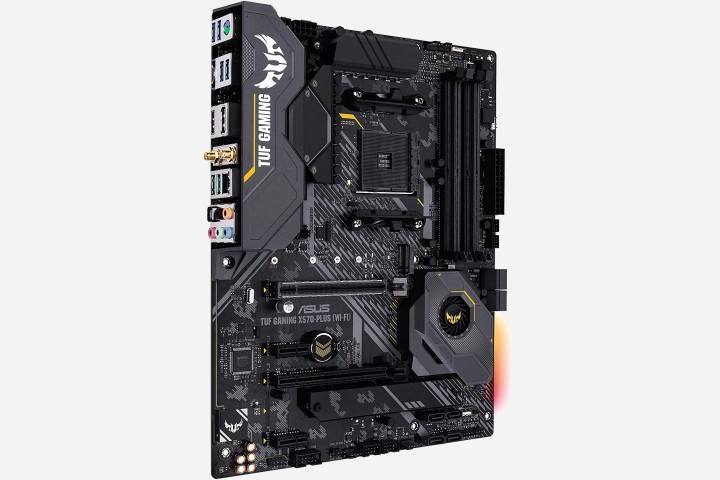 Asus ROG boards have been dominating the gaming scene for years, but their $300 plus price tags are just too much for most people to stomach. Retailing for less than $200, Asus AM4 TUF Gaming X570-Plus motherboard offers almost as much in features and build quality... at a fraction of the price. No wonder that it has been winning over gamers and reviewers in droves.

Let's begin with its graphics card support: Two latest gen PCI-E 4.0 x16 slots with CrossFireX support gives us a motherboard that is able to power two high end graphics cards at full speed. Along with its three other PCI-E x 1 slots, this ATX board has five expansion slots in total for graphics cards, sound cards, network cards, connector cards etc.
Lag is the common enemy of all gamers, so it's good to know this motherboard comes with the premium Realtek L8200A Gigabit LAN for wired internet access. If you don't have access to a LAN port, there is also an inbuilt Intel Wi-Fi and Bluetooth 5.0 adapter for connecting to the Internet and other devices.
Its onboard sound deserves an honorable mention. By combining a top end audio codec (Realtek ALC1200A) with custom refinements (EMI shielding, high grade capacitors, gold plated audio jacks), this motherboard is able to produce superior sound that's almost on par with dedicated sound cards.
For extra bling, you will find a strip of Aura Sync RGB lights on the bottom right plus two RGB headers for hooking up additional RGB devices. The Asus Aura software makes it a breeze to control and sync your RGB light colors and effects. If RGB isn't your cup of tea, you can simply leave the all the lights off.
To round things off, here's a quick run-down of its other features: four DDR4 DIMM slots (for up to 128 GB RAM), two M.2 slots (for ultra fast NVME SSDs) and eight SATA III ports (for SSDs, HDDs and disc drives) and 13 USB ports (including three USB 3.1 ports for high speed transfers).
At the end of the day, we end up with a gaming motherboard CPU combo that truly does it all: hardcore gaming, heavy graphics editing, heavy multitasking, heavy overclocking and more. The real triumph for us is achieving this without breaking the bank. While most gaming motherboard CPU combos cost $500 to $600+, this high end combo goes for just ~$400 on Amazon.

4. Best Motherboard CPU Combo for HTPC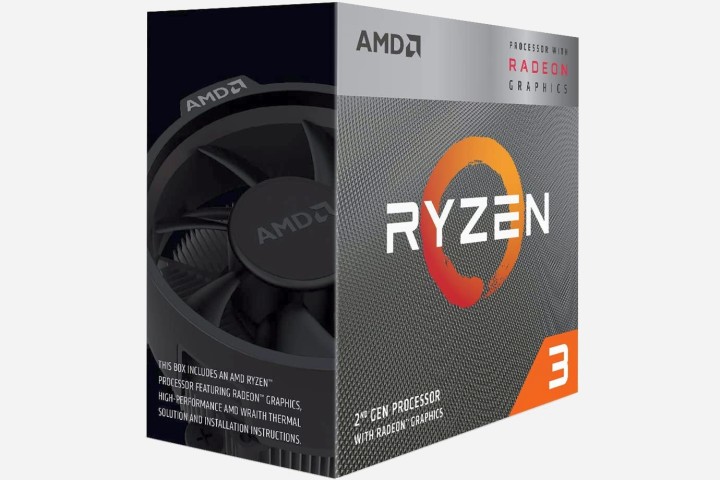 Once considered as oddities, home theater PCs have been gaining mass popularity in recent years, replacing traditional Hi-Fi systems in living rooms across the world.
AMD APUs are a refreshing development in CPU design. While most CPUs focus on processor cores and clock speeds, APUs lavish attention on the integrated graphics. The end result is APUs having so-so CPU performance but boasting superb integrated graphics. This makes them especially ideal for HTPCs where video performance matters a lot more.
AMD Ryzen 3 3200G is a four core 4.0 GHz CPU with Vega 8 graphics. Retailing for around $100, its graphics and video performance blows away anything Intel has to offer at that price range. In fact, its performance is comparable to the Nvidia GT 1030 (a $100 dedicated graphics card) for most games. 
This AMD motherboard CPU combo handles all common HTPC tasks with ease: watching 4K videos, streaming 4K videos online, encoding videos, playing and burning Blu ray & DVD discs, listening to music and viewing high res images. What's more, it can even double as a light gaming machine that runs most modern games at low settings (or older games at mid settings).
This CPU motherboard combo has a neat feature that's often overlooked: overclocking. In fact, it is one of the cheapest processors that comes fully unlocked... allowing you to overclock both its CPU and integrated graphics for performance gains.

Since most people prefer a small HTPC that can placed on a TV shelf or tucked away in a corner, we have selected a compact Mini-ITX motherboard that will easily fit into a small form factor case.
For starters, Gigabyte B450 Aorus Pro Wi-Fi comes with what all good Mini ITX motherboards should have:
One PCIe x16 slot (for a dedicated graphics or sound card etc.), two DDR4 DIMM slots (for up to 32 GB RAM), two USB 3.1 ports (for external SSDs and HDDs), six USB 3.0 ports, six USB 2.0 ports, four SATA III ports (for internal drives) and a high speed LAN port.
There is also a high speed M.2 slot for you to install a M.2 SSD or M.2 card. This reduces cable clutter and saves a lot of space in smaller PC cases.
The 1 DisplayPort and 2 HDMI ports all support 4K resolutions at 60Hz, allowing you to connect up to three 4K TVs or monitors at the same time.
High quality audio is also essential for a HTPC, and we were pleased to find a very respectable Realtek ALC1220 sound chip on board. It supports 7.1 HD audio and S/PDIF digital audio, allowing you to connect to high end speakers and headphones for a true home theater experience.

But what really excites us about this little board are its integrated wireless features: It comes with the latest Wi-Fi 802.11ac and Bluetooth 5.0 on board, allowing you to connect to the Internet and Bluetooth devices (phones, tablets, wireless speakers etc.). This frees up your USB ports and PCI-E slot, plus you won't have to spend a cent on separate wireless adapters.